Publications from NeuralGlider Users
Kim H-J, Clement RS, Bagwell RB, Tirko NN, Shih Y-Y, Lee S-H. Direct Mapping of the Nucleus Accumbens Core and Shell using Deep Brain Stimulation with functional Magnetic Resonance Imaging in Rats. Proc. Intl. Soc. Mag. Reason. Med. 2021 #2944. 
Usoro JO, Dogra K, Abbott JR, Radhakrishna R, Cogan SF, Pancrazio JJ, Patnaik SS. Influence of Implantation Depth on the Performance of Intracortical Probe Recording Sites. Micromachines (Basel). 2021 Sep 27;12(10):1158. doi: 10.3390/mi12101158. PMID: 34683209; PMCID: PMC8539313.
Neuroscience 2022- Delivery of Low-Intensity Pulsed Ultrasound in the Cortex to Improve Longevity and Performance of Neural Interfaces  ​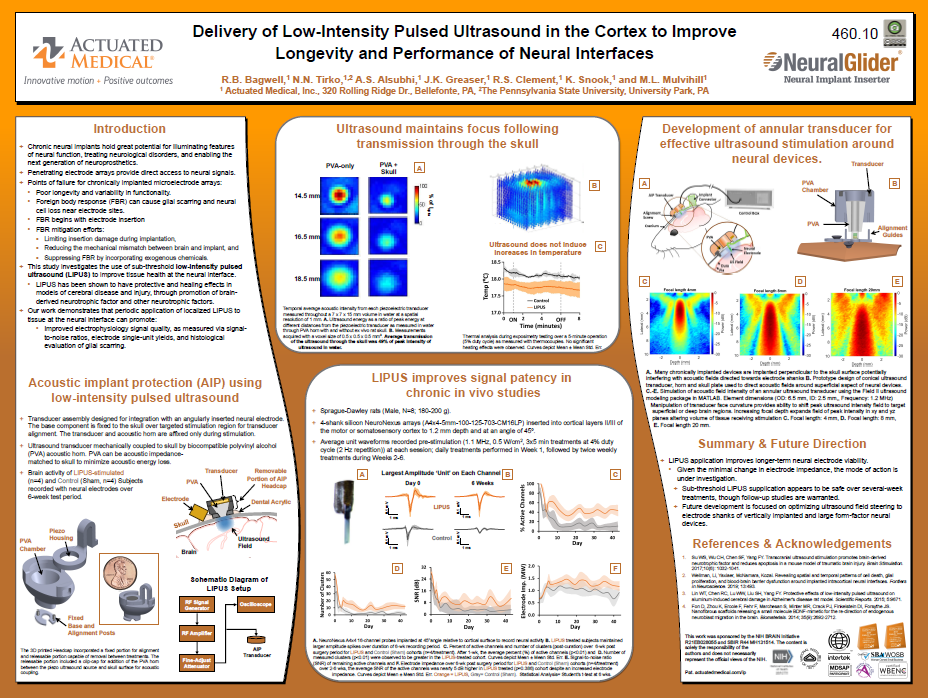 2022 Gordon Conference – Microelectrode Array Insertion System Using Ultrasonic Vibration to Improve IInsertion MEchanics and Reduce Tissue Dimpling and Trauma in the Cortex​
Neural Implant Insertion System Using Ultrasonic Micro-Vibration ​to Improve Penetrating MicroElectrode Array Insertion Mechanics: In Vitro and In Vivo Evaluations