Recording of pig neuronal activity in the comparative context of the awake human brain
Dobariya A., El Ahmadieh T.Y., Good L.B., Hernandez-Reynoso A.G., Jakkamsetti V., Brown R., Dunbar M., Ding K., Luna J., Kallem R.R., Putnam W.C., Shelton J.M., Evers B.M., Azami A., Geramifard N., Cogan S.F., Mickey B., and Pascual J.M. Recording of pig neuronal activity in the comparative context of the awake human brain. Sci Rep, 12, 15503 (2022). https://doi.org/10.1038/s41598-022-19688-2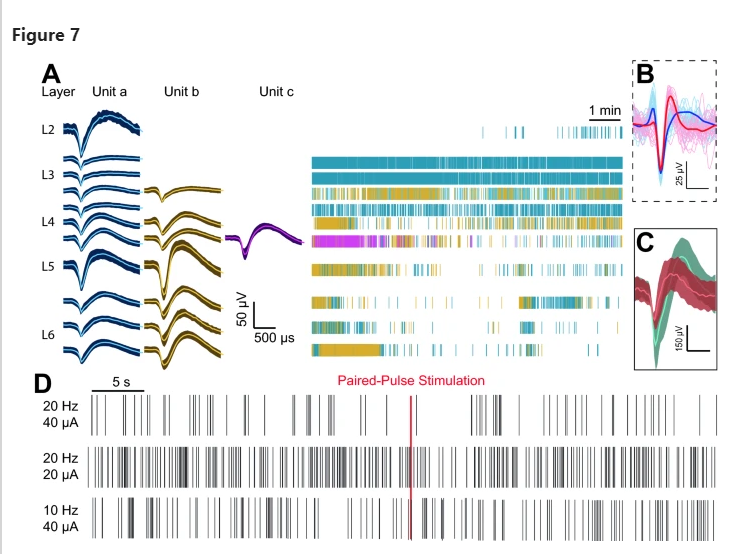 ABSTRACT: Gyriform mammals display neurophysiological and neural network activity that other species exhibit only in rudimentary or dissimilar form. However, neural recordings from large mammals such as the pig can be anatomically hindered and pharmacologically suppressed by anesthetics. This curtails comparative inferences. To mitigate these limitations, we set out to modify electrocorticography, intracerebral depth and intracortical recording methods to study the anesthetized pig. In the process, we found that common forms of infused anesthesia such as pentobarbital or midazolam can be neurophysiologic suppressants acting in dose-independent fashion relative to anesthetic dose or brain concentration…
Behavioral paradigm for the evaluation of stimulation-evoked somatosensory perception thresholds in rats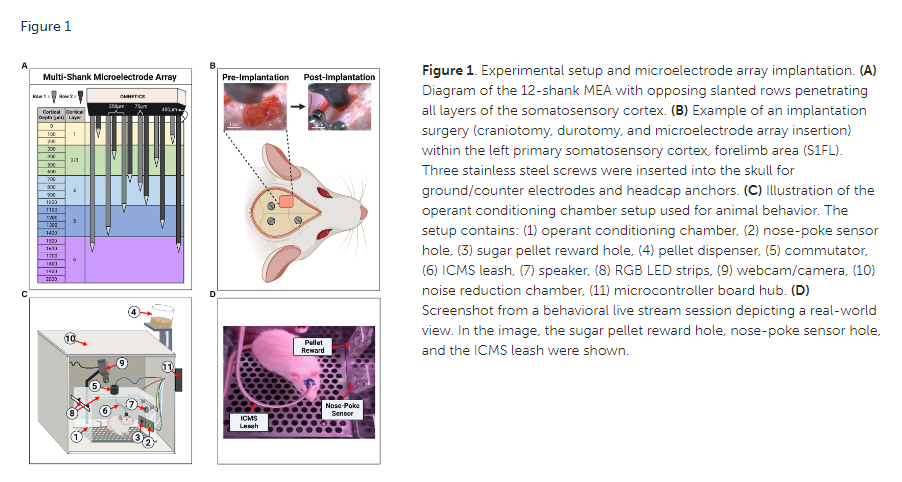 Smith T.J., Wu Y., Cheon C., Khan A.A., Srinivasan H., Capadona J.R., Cogan S.F., Pancrazio J.J., Engineer C.T. and Hernandez-Reynoso A.G. Behavioral paradigm for the evaluation of stimulation-evoked somatosensory perception thresholds in rats. Front. Neurosci. 17:1202258 (2023). doi: 10.3389/fnins.2023.1202258
ABSTRACT: Intracortical microstimulation (ICMS) of the somatosensory cortex via penetrating microelectrode arrays (MEAs) can evoke cutaneous and proprioceptive sensations for restoration of perception in individuals with spinal cord injuries. However, ICMS current amplitudes needed to evoke these sensory percepts tend to change over time following implantation. Animal models have been used to investigate the mechanisms by which these changes occur and aid in the development of new engineering strategies to mitigate such changes. Non-human primates are commonly the animal of choice for investigating ICMS, but ethical concerns exist regarding their use. Rodents are a preferred animal model due to their availability, affordability, and ease of handling, but there are limited choices of behavioral tasks for investigating ICMS. In this study, we investigated the application of an innovative behavioral go/no-go paradigm capable of estimating ICMS-evoked sensory perception thresholds in freely moving rats. We divided animals into two groups, one receiving ICMS and a control group receiving auditory tones…
Chronic Stability of Local Field Potentials Using Amorphous Silicon Carbide Microelectrode Arrays Implanted in the Rat Motor Cortex
Jeakle E.N., Abbott J.R., Usoro J.O., Wu Y., Haghighi P., Radhakrishna R., Sturgill B.S., Nakajima S., Thai T.T.D., Pancrazio J.J., Cogan S.F., Hernandez-Reynoso A.G. Chronic Stability of Local Field Potentials Using Amorphous Silicon Carbide Microelectrode Arrays Implanted in the Rat Motor Cortex. Micromachines. 2023; 14(3):680. https://doi.org/10.3390/mi14030680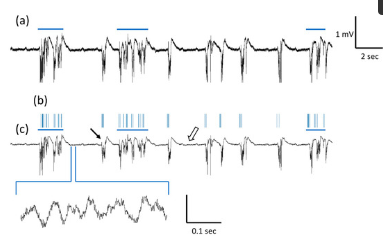 ABSTRACT: Intracortical microstimulation (ICMS) of the somatosensory cortex via penetrating microelectrode arrays (MEAs) can evoke cutaneous and proprioceptive sensations for restoration of perception in individuals with spinal cord injuries. However, ICMS current amplitudes needed to evoke these sensory percepts tend to change over time following implantation. Animal models have been used to investigate the mechanisms by which these changes occur and aid in the development of new engineering strategies to mitigate such changes. Non-human primates are commonly the animal of choice for investigating ICMS, but ethical concerns exist regarding their use. Rodents are a preferred animal model due to their availability, affordability, and ease of handling, but there are limited choices of behavioral tasks for investigating ICMS. In this study, we investigated the application of an innovative behavioral go/no-go paradigm capable of estimating ICMS-evoked sensory perception thresholds in freely moving rats. We divided animals into two groups, one receiving ICMS and a control group receiving auditory tones…
Influence of Implantation Depth on the Performance of Intracortical Probe Recording Sites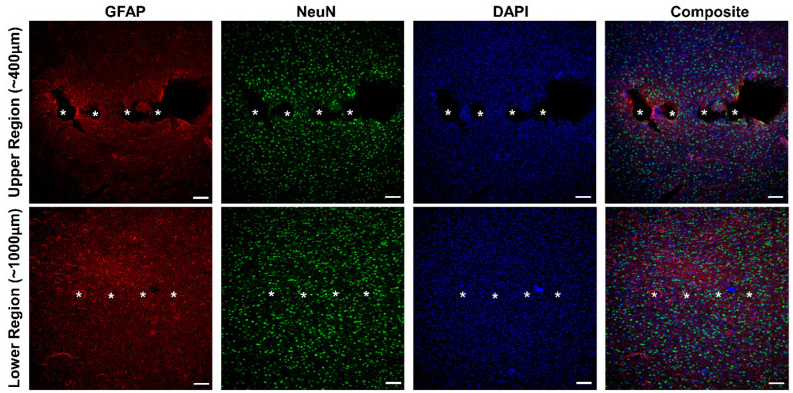 Usoro J.O., Dogra K., Abbott J.R., Radhakrishna R., Cogan S.F., Pancrazio J.J., Patnaik S.S. Influence of Implantation Depth on the Performance of Intracortical Probe Recording Sites. Micromachines (Basel). 2021 Sep 27;12(10):1158. doi: 10.3390/mi12101158. PMID: 34683209; PMCID: PMC8539313.
ABSTRACT: Microelectrode arrays (MEAs) enable the recording of electrical activity from cortical neurons which has implications for basic neuroscience and neuroprosthetic applications. The design space for MEA technology is extremely wide where devices may vary with respect to the number of monolithic shanks as well as placement of microelectrode sites. In the present study, we examine the differences in recording ability between two different MEA configurations: single shank (SS) and multi-shank (MS), both of which consist of 16 recording sites implanted in the rat motor cortex. We observed a significant difference in the proportion of active microelectrode sites over the 8-week indwelling period, in which SS devices exhibited a consistent ability to record activity, in contrast to the MS arrays which showed a marked decrease in activity within 2 weeks post-implantation…
Influence of Implantation Depth on the Performance of Intracortical Probe Recording Sites
Kim H-J., Clement R.S., Bagwell R.B., Tirko N.N., Shih Y-Y., Lee S-H. Direct Mapping of the Nucleus Accumbens Core and Shell using Deep Brain Stimulation with functional Magnetic Resonance Imaging in Rats. Proc. Intl. Soc. Mag. Reason. Med. 2021 #2944.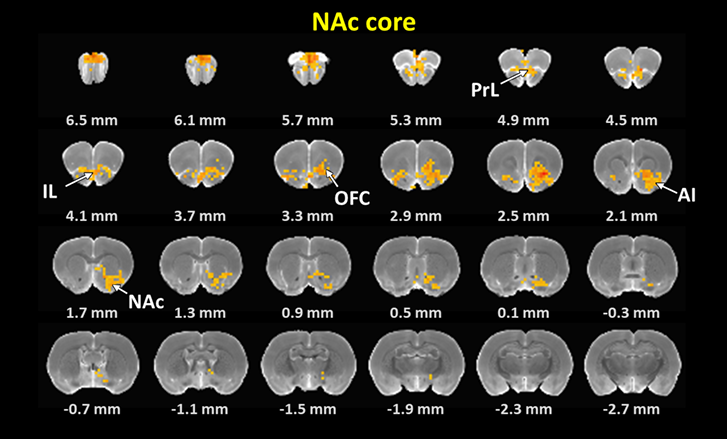 ABSTRACT: The nucleus accumbens (NAc) has a significant role in the cognitive processing of motivation, addiction, reward and reinforcement. Simultaneous Deep Brain Stimulation (DBS)-fMRI is a powerful tool for mapping functional connectivity and exploring neuromodulatory mechanism of DBS invivo By using MR-compatible and flexible multichannel neural probe we performed site-selective stimulations of NAc to dissect the functional networks of its core and shell substructures. Such advantages allows systematic and functional in vivo study of differences between NAc core and shell.
Neuroscience 2022- Delivery of Low-Intensity Pulsed Ultrasound in the Cortex to Improve Longevity and Performance of Neural Interfaces  ​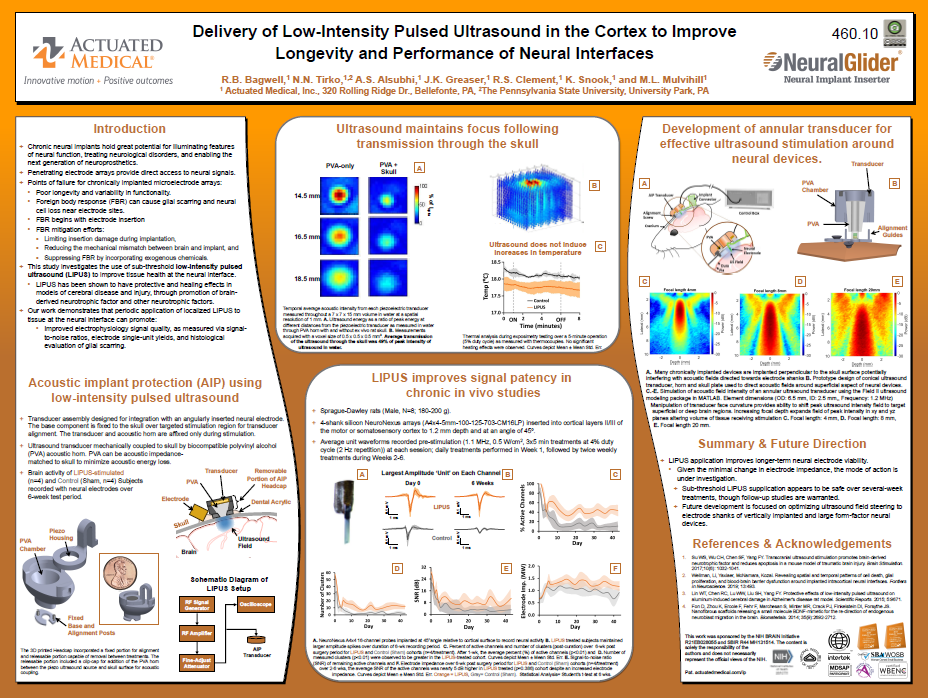 2022 Gordon Conference – Microelectrode Array Insertion System Using Ultrasonic Vibration to Improve IInsertion MEchanics and Reduce Tissue Dimpling and Trauma in the Cortex​
Neural Implant Insertion System Using Ultrasonic Micro-Vibration ​to Improve Penetrating MicroElectrode Array Insertion Mechanics: In Vitro and In Vivo Evaluations